KVS Class 1 Admission Online Lottery Merit List 2023-24 Live Updates
KVS Online Streamed Lottery Draw for Class 1 Check Live Link and Admission List will be Released After notification by Kendriya Vidyalaya Sangathan.
Kendriya Vidyalaya Class 1 Admission Lottery Result 2023-24 Will be available on 20.04.2023 after 7 pm at the official website of https://www.education.gov.in/kvs/. Parents and guardians of candidates can download Class 1 selection list for admission 2023-24.
How to Download Class 1 Lottery Result 2023-24
Visit the official website https://www.education.gov.in/kvs/.
Select your state and KV School Name, then click Search Button.
Next, you can get admission result in PDF Format.
Finally, you can download the Class 1 admission selection list 2023-24
KVS Class 1 Online Admission Lottery Result 2023-24
As per KVS Admission Schedule 2023-24, All Kendriya Vidyalaya schools will conduct a draw of lots to select candidates for class 1 admission through lottery system on 20.4.2023 and announce the final admission result will be announced in online immediately. The first admission list of selected candidates will be published on the respective school websites. Kendriya Vidyalaya class 1 admission process will starts from 21.4.2023.
The official announcement of the releasing date of KVS Admission 2023 class 1 provisional selection list will be available from the KVS online admission portal kvsonlineadmission.kvs.gov.in. Parents are requested to check class 1 admission list 2023-24 on the official website of KVS on the first merit list date 20.04.2023 (Thursday). The second and third list will be published as per the schedule. The second and third lists will be released based on the availability of seats.
Kendriya Vidyalaya Class 1 Live Lottery Broadcast Schedule Link will be available in the respective KV School Websites.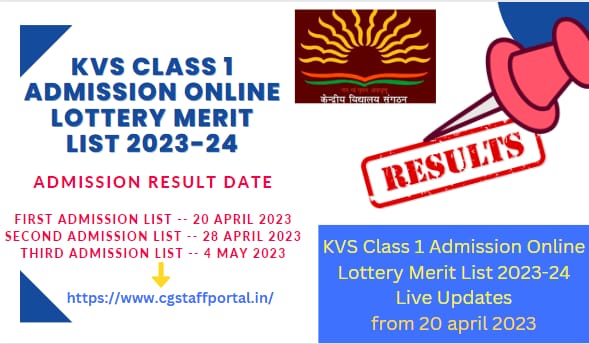 KVS Class 1 Online Admission Lottery Result 2023-24 Time Table

First Admission List Date
20.4.2023
Thursday
Second Admission List Date (if seats remain vacant)
28.4.2023
Friday
Third Admission List Date (if seats remain vacant)
4.5.2023
Thursday
Extended date for Second Notification for off line registrations for Class 1 admissions to be made under RTE Provisions, SC,ST and OBC (NCL) if sufficient applications were not received in online mode.
Notification on 03.05.2023 (Wednesday)
Registration from 04.05.2023 (Thursday) to 11.05.2023 (Thursday)
Display of list and Admissions 18.05.2023 (Thursday) to 25.05.2023 (Thursday)
KVS Admission 2023-24 Schedule for Classes 2 to 9

Registration for Class 2 onwards (except Class XI) Start Date in offline mode
3.4.2023
Monday
Registration for Class 2 onwards Last Date
12.4.2023
Wednesday
Declaration of Admission list of class II onwards
17.4.2023
Monday
Class 2 to 9 Admission Process Start Date
18.4.2023
Tuesday
Class 2 to 9 Admission Process End Date
29.4.2023
Saturday
Last date of admission for all classes except class XI.
30.4.2023
Friday
KVS Admission 2023-24 Schedule for Class 11

For KV students: Registration for admission in class XI.
Within 10 days after declaration of class X results
KV students: Display of admission list & admissions for Class-XI.
Within 20 days after declaration of class X results.
Non-KV students: Registration, display of admission list & admissions in class XI (Subject to availability of vacancies)
After the admissions of KV students in class XI.

Last date of admission for class – XI.
30 days from the date of declaration of class-X results by CBSE.
Required Documents for KVS Class 1 Admission 2023-24
You must provide all required documentation for KVS Class I at the time of admission for the academic year 2023-24.
DOWNLOADED AND PRINTED COPY OF ONLINE FILLED ADMISSION FORM (Mandatory)
2. Certificate of proof of age in the form of a Birth certificate issued by the authority competent to register births. This will include certificates from Notified Area Council / Municipality / Municipal Corporation extract about the date of birth from records of Village Panchayat, Military Hospital and service records of Defence personnel. (XEROX COPY)
3. Pass Port size colour photo -1
4. Proof of Residence ( Xerox copy)
(Same address as mentioned in online application form)
Documents: Latest Electricity bill/latest gas bill on the name of the parent of the child.
Quarter allotment letter (in case of Service employee) OR Rental agreement
5. Aadhar card (Xerox copy)
6. Blood group certificate (Xerox copy)
7. A service certificate (ORIGINAL) showing the number of transfers during the preceding 7 years duly signed and stamped by the head of office bearing the name, designation and other relevant particulars in block letters and last two months Salary slips (Xerox copies) and Xerox copy of the Identity card of the parent of the applicant.(If applicable)
8. A certificate that the child belongs to the Scheduled Caste/Scheduled Tribe/EWS/OBC (Non Creamy Layer)/BPL wherever applicable, issued by the Competent Authority in concerned State Government/Union Government (IF APPLICABLE)
9. A certificate from the civil surgeon/rehabilitation centre or any other competent authority defined by the Government of India O. M. No. 36035/5/88 / Estt. (sct) dated 4.5.1999 certifying the child is handicapped, (IF APPLICABLE)
10. A certificate of retirement for uniformed Defence employee. (IF APPLICABLE)
Note:
(i) Mere registration will not confer a right to admission.
(ii) Incomplete application forms shall normally be rejected
(iii) Admission secured on the basis of any wrong certificate shall be cancelled by the Principal
forthwith and no appeal against such action of the Principal shall be entertained.
(iv) For admission to class I, the registrations will be done through online mode.
RESERVATIONS IN ADMISSION CLASS I
Reservation in KVS Class 1 Admission 2023-24 
For admission to Class 1, admission is conducted as per reservations for RTE, SC, ST, OBC, and PWD categories.
A. SCHEDULED CASTE, SCHEDULED TRIBE AND OTHER BACKWARD CLASSES CATEGORY
Out of the available seats of fresh admission 25% shall be reserved for Right To Education (Hereafter referred to as 'RTE'), 15% seats for Scheduled Caste, 7.5% seats for Scheduled Tribes and 27% seats for Other Backward Classes (OBC-NCL) shall be reserved in all fresh admissions in all Kendriya Vidyalayas.
B. DIFFERENTLY ABLED CATEGORY
3% seats of total available seats for fresh admission will be horizontally reserved for Differently Abled-children as per the provisions of RTE Act, 2009.
Read in conjunction with Persons with Disabilities (Equal Opportunities, Protection of Rights and Full Participation) Act, 1995.
The reservation norms shall be applicable within approved class strength 40 students per section
RTE 25%:10 seats
SC 15%: 06 seats
ST 7.5%: 03 seats
OBC27%: 11 seats
(3% seats for the differently-abled applicant would be reserved horizontally)
After closing of process of registration, the sequence of conduct of lottery by each Kendriya Vidyalaya will be as under:
(a) RTE Lottery
(b) All DA Lotteries
(c) CAT I
(d) CAT II
(e) SC
(0 ST
(g) OBC
(h) CAT III
(i) CAT IV
(j) CATV
(k) CAT VI (If applicable)
(I) Single Girl Child (Hereafter referred to as 'SGC')
The following sequence is to be adopted for the fresh admissions to Class-I in Kendriya Vidyalayas.
(I) First Lot: 10 seats (out of 40 seats) in Class I per section are to be filled as per RTE Provisions (25% of seats) and these 10 seats will be filled by draw of lots from all applications of SC/ST/EWS/BPL/OBC (Non-Creamy Layer) /Differently abled taken together who are the resident of Neighbourhood.
(II) Second Lot: Lottery for Differently Abled candidates of SC/ST/OBC- NCL/Unreserved is to be conducted as per Priority Category.
(III) Third Lot: Remaining seats (after deducting RTE and Differently Abled applicants, if any) wall be filled as per the existing Priority Category of Cat-1 and Cat-2 (Cat-1to Cat-3 in case of Project/IHL KV) only up to the sanctioned strength or till all the registered candidates from Cat-1 and Cat-2 (Cat-1 to Cat-3 in case of Project/IHL KV) is filled.
(IV) Fourth Lot: The total number of SC/ST/OBC-NCL will be counted from the admitted summary of RTE, DA, Cat-i and Cat-2 (Cat-i to Cat-3 in case of Project/IHL KV) admissions done till third phase. Thereafter, the shortfall-in the seats reserved for SC/ST/OBC-NCL, if any, shall be covered by admitting SC/ST/OBC-NCL applicants as per the order of priorities of admission, irrespective of sanctioned strength.
(V) Fifth Lot: After all these processes, if sanctioned strength is not filled and seats are vacant, applicants from Priority Cat-3 (Cat-4 in Project/IHL KV) onwards will be taken up for admission as per existing priority list for unreserved seats only. The unfilled leftover reserved seats of RTE/SC/ST/OBC (NCL) should be kept vacant.
(VI) Filling of leftover vacant reserved seats, in case adequate number of candidates registered online are not available: For filling unfilled quota of reserved seats for RTE/SC/ST/OBC, a separate advertisement is to be given, in the month of April, as per schedule of Admission by the concerned Kendriya Vidyalaya, for offline registration of the candidates belonging to that particular category only to fill the shortfall of reservation quota. The candidates thus registered offline may be admitted based on their Priority Category to fulfil the shortfall of reservation quota. Even after going through the above exercise, if these seats remain vacant, then the following procedure may be adopted:
(a) In no case the seats reserved as per RTE will be de-reserved,
(b) In case of vacant seats of SC/ST:
SC/ST seat should be filled after interchanging the seat as per the availability of registered candidates from the available SC/ST social category priority list i.e. vacant SC seats may be filled with ST or vice versa, only if total SC and ST candidates admitted taken together fall short of total reserved seats of SC and ST taken together. This aggregation may be obtained by counting all the admitted SC and ST candidates of all the categories e.g. in a single section KV total SC and ST seats are 9 (6 SC + 3 ST). Now suppose 8 SC and 1 ST is already admitted and there are no more ST candidates available to admit, in this case these 2 seats of ST will not be given to SC as already 9 SC/ST candidates have been admitted. Clarification: OBC seats cannot be interchanged with SC/ST or RTE.
c) In case of vacant seat of OBC:
(i) Within the sanctioned strength: After going through the process mentioned in para 4(vi) still reserve seats for OBC (NCL) are unfilled, it may be filled with remaining waitlisted eligible candidates from Priority Categories within approved class strength.
(ii) Over and Above the Sanctioned Strength: No action is to betaken.
(d) The definition/eligibility criteria of Disadvantaged Group/Weaker Section/BPL/OBC (Non-creamy layer) wall be as per the notification of the concerned State Governments. (The—DC KVS RO Concerned may issue guidelines regarding BPL/EWS as per the latest notification of the concerned State Governments).
(e) Admission test will not be conducted for Class I.
How to Check KVS Class I Admission Result 2023?
Parents who are waiting for admission for class 1 in Kendriya Vidyalaya, go to the KVS online admission portal https://kvsonlineadmission.kvs.gov.in/
Parents can enter the login details in the required fields and click on the submit button
After clicking on the submit button, Class 1 result will be displayed.
Parents can download the Result of KVS Admission Class 1 PDF, take a print out and secure it for further admission reference.
Kendriya Vidyalaya Fee and Concessions
FEE AND OTHER CONCESSIONS:
No fee to be charged from the children admitted under the 25% quota prescribed under RTE Act 2009.
Expenses on account of NCERT text book, note books, stationary, uniform and transport will be reimbursed on production of proper bills in respect of 25% of the children admitted under the RTE Provisions subject to the ceiling prescribed and availability of funds.
Once the children are admitted in Class I under RTE Act, they will continue to enjoy exemptions and concessions till class VIII either in the same KV or any other K.V. moving on transfer as per RTE Act.
Address proof of the parent should be furnished at the time of the registration.
The employees who have the facility of fee reimbursement in their departments cannot claim RTE concessions.
READ ALSO: Fee Structure in Kendriya Vidyalaya Schools 2023-24
METHOD OF ADMISSION IN CLASS II TO VIII
Admission test shall not be conducted for admission to Class II to VII and the admission may be granted based on Priority Category system (1 to 5 or 6 as the case may be). If applications are more than the number of seats, lottery system will be followed in each category including single girl child quota (Class VI Onwards).
METHOD OF ADMISSION IN CLASS IX
For admission to Class IX, an admission test shall be conducted and a merit list will be prepared for each category of priority separately. Admission shall be granted in the sequence of priority categories, in the order of merit.
(i) Admission test shall be conducted in the subjects: Hindi, English, Maths, Social Science and Science.
(ii) There will be only one paper of Admission test of 3 Hours duration & 100 marks comprising Hindi, English, Maths, Social Science and Science each of 20 marks.
(iii) Candidates must secure 33% marks in aggregate to qualify. Students belonging to SC/ST/Divyang category (PH) will be eligible for admission on securing 25% in aggregate.
METHOD OF ADMISSIONS IN CLASS XI KV Students:
Admission in different streams, Science, Commerce & Humanities be based on merit upto maximum 55 strength in case of KV students as per availability of streams in the Kendriya Vidyalaya. Choice of stream will be taken from students with parent consent before declaration of merit list. Stream will be allotted on the basis of marks obtained in Class X CBSE Board Examination. Once the seats exhausted in one stream students have to take admission in the other available stream in that Vidyalaya. Undertaking is to be obtained from students before finalization of merit list by KV.
Note: If seats remain vacant in class XI even after admitting the children of KV/ neighboring KVs then the admissions to non – KV children may be granted on the same criteria, in the sequence of categories of priority.
READ ALSO: