CGEWCC Chandigarh – List of Compulsory and Restricted Holidays 2021
CGEWCC Chandigarh: List of Compulsory and Restricted Holidays 2021 for Chandigarh, Panchkula and Mohali
CENTRAL GOVERNMENT EMPLOYEES WELFARE
COORDINATION COMMITTEE, CHANDIGARH.
Ministry of Personnel, Public Grievances and Pensions
Department of Personnel and Training, Government of India.
Ref.:- Ref.CGEWCC/
Dated: 02/11/2020
To,
All The HODs/ HOOs
Central Govt Offices located at Chd, Pkl & Mohali,
Sub:- List of Holidays for the year 2021.
Sir/ Madam,
Please find attached the List of Holidays to be observed at all the Central Govt. Offices stationed at Chandigarh, Panchkula & Mohali during the year 2021. This list is duly approved by Central Govt. Employees Welfare Coordination Committee Chandigarh in the Core Committee Meeting held Under the chairmanship of Shri N.K. Saini, worthy chairman of the committee on 27.10.2020.
Thanking you,
Sincerely Yours,
sd/-
Dr. Amarjit Kaur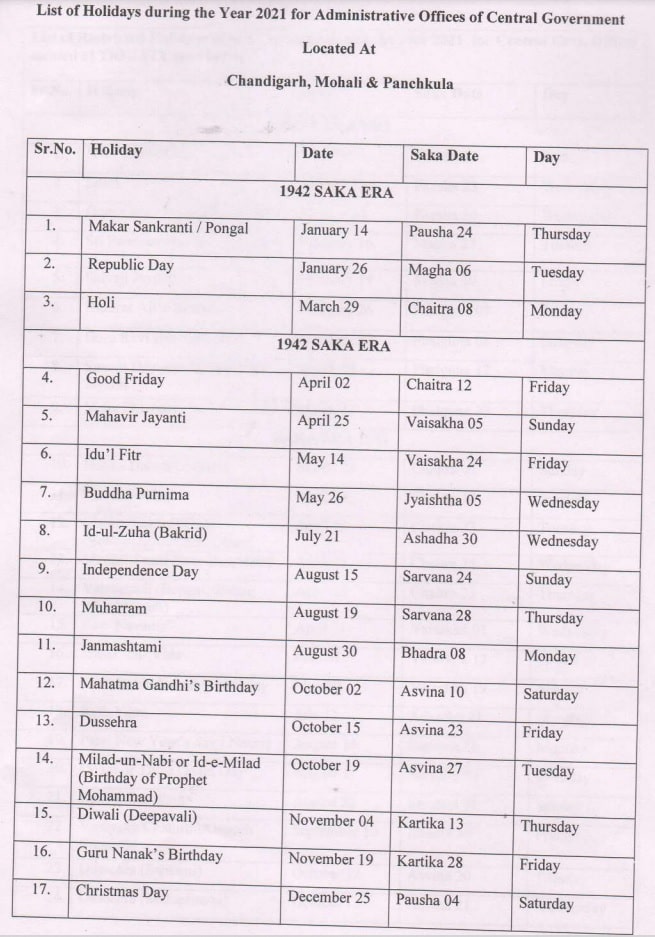 Click to View: Central Government Offices Holiday List 2021 pdf download