CCS (Implementation of NPS) Rules 2021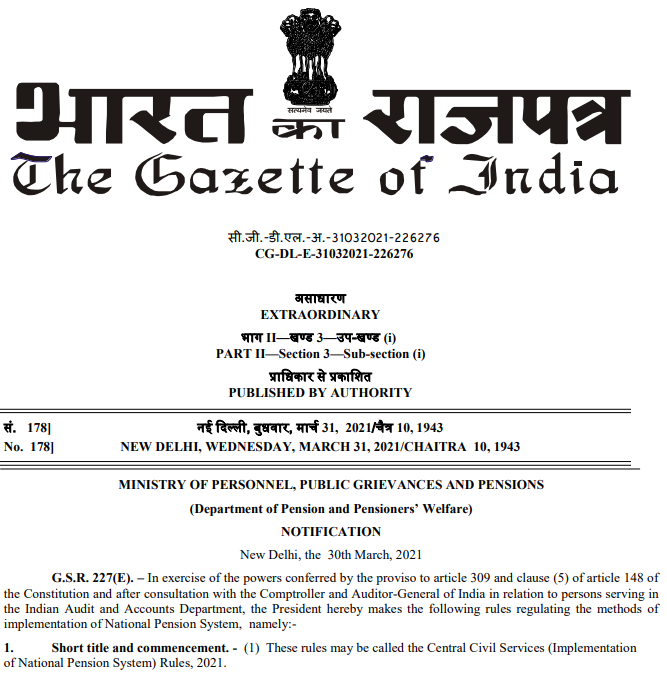 MINISTRY OF PERSONNEL, PUBLIC GRIEVANCES AND PENSIONS
(Department of Pension and Pensioners' Welfare)
NOTIFICATION
New Delhi, the 30th March, 2021
G.S.R. 227(E). – In exercise of the powers conferred by the proviso to article 309 and clause (5) of article 148 of the Constitution and after consultation with the Comptroller and Auditor-General of India in relation to persons serving in the Indian Audit and Accounts Department, the President hereby makes the following rules regulating the methods of implementation of National Pension System, namely:-
1. Short title and commencement. – (1) These rules may be called the Central Civil Services (Implementation of National Pension System) Rules, 2021.
(2) They shall come into force on the date of their publication in the Official Gazette.
2. Application. – Save as otherwise provided in these rules, these rules shall apply to the Government servants, including civilian Government servants in the Defence Services, appointed substantively to civil services and posts in connection with the affairs of the Union on or after 1st day of January, 2004, but shall not apply to,-
(a) Railway servants;
(b) persons in casual and daily rated employment;
(c) persons paid from contingencies;
(d) members of the All India Services;
(e) persons locally recruited for services in diplomatic, consular or other Indian establishments in
foreign countries;
(f) persons employed on contract;
(g) persons whose terms and conditions of service are regulated by or under the provisions of the
Constitution or any other law for the time being in force; and
(h) persons to whom the Central Civil Services (Pension) Rules, 1972 apply in accordance with any
special or general order issued by the Government.